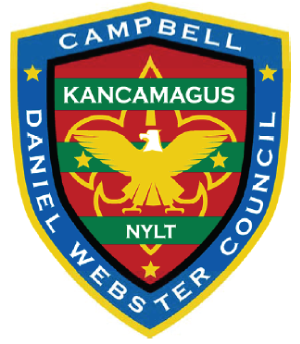 National Youth Leaderhip Training (NYLT)
"Kancamagus"
Sunday, June 28 – Saturday, July 4, 2015
Camp Bell, Griswold Scout Reservation
As Scouting Leaders, we realize the value in having trained youth leaders and how it directly impacts the success of a Scouting unit. It is the unit leader's responsibility to see that his or her Scouts are trained in leadership techniques and that they have the ability to run a youth-led troop program under the leader's direction. National Youth Leadership Training (NYLT) is a rewarding experience for the youth in your troop to receive this training and it is equally rewarding for you as a leader. Once you invest in this program, it will make a great difference in the lives of the youth who participate and for your unit.
What is Kancamagus National Youth Leadership Training (NYLT)?
It is a six day outdoor leadership training program for youth leaders developed by the Boy Scouts of America and conducted by Daniel Webster Council. A carefully selected and highly qualified youth staff (NYLT graduates, many with National Advanced Youth Leadership Experience training from Philmont) under the supervision of adult advisors set the example with a youth-led unit in modeling the core learning and leadership messages of the NYLT syllabus.
The course focuses on teaching advanced leadership skills in a team-building atmosphere based on the patrol method. The participants will be regularly challenged to accomplish activities and projects using the leadership skills taught in the course. Participants will experience the simulation of a month in the life of a unit, complete with meetings, activities, and planning for the big monthly outing (the outpost overnight trip at the end of the course).
What is the caliber of the staff?
The Scoutmaster, Gerard Boyle and the Course Director, Ray Bellemore collectively have over 55 years of Scoutmaster experience. Mr. Bellemore was Scoutmaster of Troop 135 in Manchester, NH for over 35 years, while Mr. Boyle was Scoutmaster of Troop 56, Plymouth for several years. Both Mr. Bellemore and Mr. Boyle are members of the Daniel Webster Council's Executive Committee and Executive Board.
Mr. Bellemore and Mr. Boyle have been recognized as part of a select group of Scoutmasters at the BSA's annual meeting for leading exemplary Scout troops.
What are the course objectives?
To give participants the confidence and knowledge to run the unit program;

To teach and practice key leadership skills and relate these skills to the participant's unit responsibilities;

To give participants the opportunity to share ideas and experiences that other Scouts and Venturers have found to be successful and useful in their home units;

To give participants a varied experience with emphasis on the patrol method and new ways to teach Scoutcraft skills in a fun atmosphere back in their home unit;

To create an enthusiastic and fun situation where participants will experience "Scouting at its best";

To enhance the relationship between the participant and his or her home unit leader.
What will the participants learn?
The Scouts and Venturers will come away from their NYLT experience with exposure to the best of modern leadership techniques with the traditional strengths of the Scouting program. They will learn many invaluable skills about how to create a vision of success, how to set goals and make plans, how to listen and solve problems, and how to teach and lead. Most of all, they learn the bigger picture of how to put the needs of others first in order to be a truly great leader. They learn to use the Scout Oath and Law to make hard decisions and to remain true to Scouting's values.
How can they use this to support our unit's program in a unit setting?
The applications to a home unit are immediate. Participants come home from NYLT with a new toolbox of skills at their disposal. Participants have lived the patrol method and have spent the week thinking about their own quest for the meaning of leadership. Participants will provide great value to their troop or crew with their ability to coach and mentor other Scouts or Venturers. In addition, while at NYLT pareticipants have made a commitment to take on a challenge to better their home units. They needs to share this challenge with the unit's leaders upon returning from the training and enlist the unit leader's aid in evaluating their effort.
What are the participant requirements?
Venturer OR First Class, Star, Life or Eagle Scout that is at least 14 years of age by course start date. In exceptional cases, 13 year old Scouts may be considered if recommended by their Scoutmaster;

Senior Patrol Leader, Assistant Senior Patrol Leader, Crew President, or future candidate;

Complete BSA summer uniform (shirt, belt, shorts, and socks). Two activity t-shirts and a hat are provided as part of the course fee;

Home troop or crew Unit Leader approval
When, where, and how much?
June 28 – July 4, 2015 at Camp Bell
$370 – With $50 deposit submitted by 3/16 and balance paid by 5/15

$390 – With $50 deposit submitted after 3/16 but full balance paid by 5/15

$410 – Full course fee if full payment is not received by 5/15
Scholarships may be available.
What is the application process?
Applications will be accepted until May 16, 2015. The course is very popular and enrollment is limited. It is recommended to register early to avoid disappointment. Registration does not guarantee acceptance, however. Scoutmaster approval is required and Scoutmasters will be contacted directly by e-mail following registration. Applicants will not be accepted without this approval.
Upon acceptance, applicants will receive additional information and an invitation to attend the Orientation Meeting on June 1 with their parents and unit leader.
Who can I contact?
Ray Bellemore, Course Director
603-424-2291
Gerard Boyle, Course Scoutmaster
603-496-3665