Download Collection Site Database

Did you realize that one of every three people served by food banks are children? It is reported today nearly one of four people in soup kitchen lines is likely to be a child. More than one in three households being helped by local food banks and pantries includes children. This year's "Scouting for Food" effort will benefit more than 150 pantries, kitchens and closets throughout New Hampshire.
On the first Saturday in November, Cub Scouts, Boy Scouts, Venturers and their leaders will deliver Scouting for Food door hangers throughout their neighborhoods and state. On the next Saturday, Scouts will return to collect the donated non-perishable food items left outside with and take them to a convenient drop off location within their local communities.
Most Needed Items
Non-perishable food and hygiene items (no glass, please)
Canned protein (tuna, chicken, peanut butter)

Soups

100% fruit juice

Grains (pasta, rice, macaroni & cheese)

Canned vegetables and fruits

Condiments

Hygiene products (diapers, toilet paper, tissues, soap, toothpaste)
If you receive a door hanger, please make sure to leave your donations in a visible location outside your front door or by the base of your mailbox (please do not hang on or put in your mailbox) by 8:30 AM on Saturday, November 14, 2015. Please avoid donating glass items.
If you do not receive a door hanger or your items are not picked-up, please consider bringing donations to a local food pantry. Please place your donated items in plastic grocery bags or boxes.
---
Unit Planning & Organization:
Units: Door hangers will be available to pick-up starting at your district's October roundtable. Contact your district Scouting for Food chair or district professional if you have any questions.
UNIT RESPONSIBILITIES:
The unit must know its assigned territory. If you're not sure, please consult with your district Scouting for Food chair.

All members, both youth and adult, should be in uniform during Scouting for Food activities.

Determine an assembly place and time for your door hanger distribution and collection of donated food items (you may wish to use your regular unit meeting place or another convenient location).

Be sure that Scouts travel in groups of two or more with adequate adult supervision.

Provide enough vehicles for the number of boys participating and the area to be covered.

Vehicles should stay as close to the boys as possible. It is highly recommended (especially for Cub Scouts) for adults to be on the streets during door hanger distribution.

Plan to remind all participants during the week of the drop off and collection.

Unit leaders must make sure the distribution and collection guidelines listed below are followed.
DISTRIBUTION AND COLLECTION GUIDELINES:
All unit members work the assigned territory only.

On boundary streets, collect only on your side of the street unless you are given other instructions.

Distribute to residences only. Skip businesses and apartments with controlled access or rules against solicitation.

Place the door hanger on what appears to be the most frequently used door of the residence.

Do not put in mailboxes. DO NOT ENTER ANY HOME FOR ANY REASON.
Please also make sure to report your unit's Scouting for Food service hours on the Journey to Excellence website.
For more information contact the council program department at (603) 625-6431 or 1-800-221-0009, your district Scouting for Food Coordinator or district professional for details. With everyone's assistance, we can make a difference in whether or not a child goes hungry.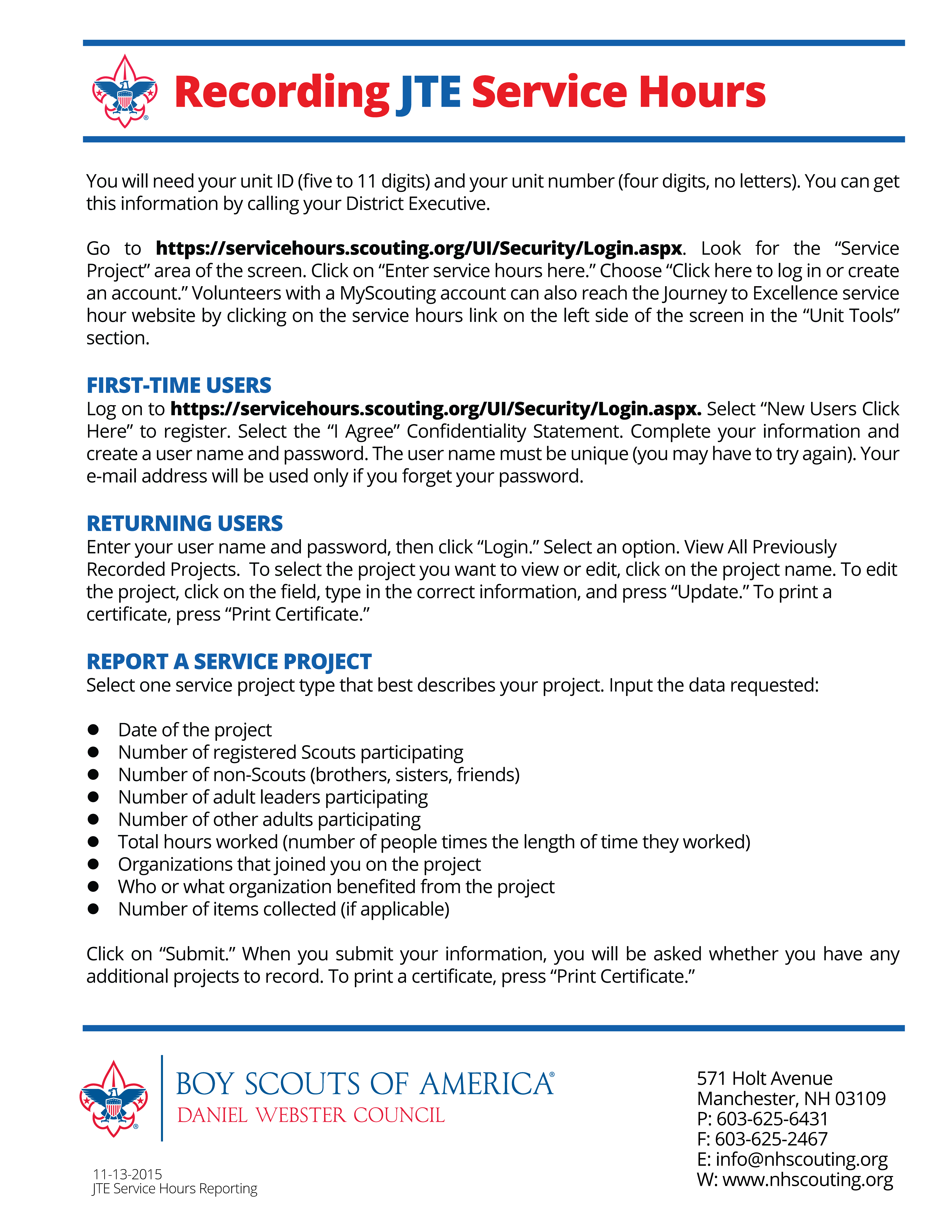 ---