Manchester Scout Shop
At Camp Carpenter
300 Blondin Road
Manchester, NH 03109
Phone (603) 622-5060 | Fax (603) 622-5071
Email advancement reports, orders, questions or other information to: manchesterscoutshop@scouting.org
The Scout Shop carries a complete line of official Boy Scout uniform parts and supplies as well as a variety of Scouting related items. Anything not in stock can be ordered for direct delivery to your home. The friendly staff at the Scout Shop will gladly take phone orders and are pleased to ship in-stock items within 3-5 business days.
---
---
Hours of Operation

Monday - Friday, 9:30 AM - 6:00 PM
Saturday, 9:30 AM - 3:00 PM
Sunday, Closed

Summer Hours
(During Resident Camp Only)

Monday, Tuesday, Wednesday and Friday
9:30 AM - 6:00 PM
Thursday 9:30 AM - 7:30 PM
Saturday 9:30 AM- 3:00 PM
Sunday, 11:00 AM - 5:00 PM
Please note that the Scout Shop is closed if the Daniel Webster Council Service Center is closed due to inclement weather.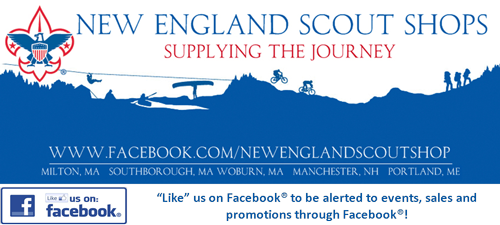 ---
General Sales Information
We accept MasterCard, Visa, Discover and American Express

If not charged, all orders must be accompanied by a check or money order

All checks must be drawn on American banks and made payable to the Manchester Scout Shop

Custom lettered flags and engraved items require additional handling time and will be shipped separately

Custom orders must be paid for at time of ordering

Packing & Delivery Charges

Note: Shipping will be through UPS, who will not ship to P.O. Boxes.

Please be sure to include a complete physical address.

Ground Shipment Charges (as outlined on the official website Scoutstuff.org) are as follows:

Up to $50.00

$7.50

$50.01 to $100.00

$9.95

$100.01 to $150.00

$13.50

Over $150.00

9% of total sale

$13.00 extra for Second Day Delivery

$18.00 extra for next day delivery

Return Policy

If you are not satisfied with any items purchased from the Manchester Scout Shop for any reason, you can either exchange the item for a replacement or return to the Manchester Scout Shop for a full refund with the original receipt. All merchandise must be in original packaging with tags attached (saleable condition) and must be current merchandise. Any item returned without original receipt, a store credit will be issued.

Just a couple of reminders from the Scout Shop…

Please be sure to mail your Advancement Report Form to the Scout Shop, NOT the Service Center. The address for the Scout Shop is 300 Blondin Road, Manchester, NH 03109. If you mail it to the Service Center, it only prolongs the report to get to the Scout Shop to be processed and the items back to you. You may also email advancement reports to

manchesterscoutshop@scouting.org

.

Please be sure to note on the Advancement Report Form if you DO NOT need the awards. On the Form, top left side, there is an area marked "Date Awards Needed:" -- if you don't need the awards, be sure to note that there, clearly, so we don't send them to you. When we receive an advancement report, we assume you need the awards and will therefore send them to you unless otherwise noted.

Please be sure to allow 5-6 business days for the processing of your advancement report after we receive it at the Scout Shop. We'll do our best to get it to you sooner, but please plan accordingly.